MATTHEW PENN
---
---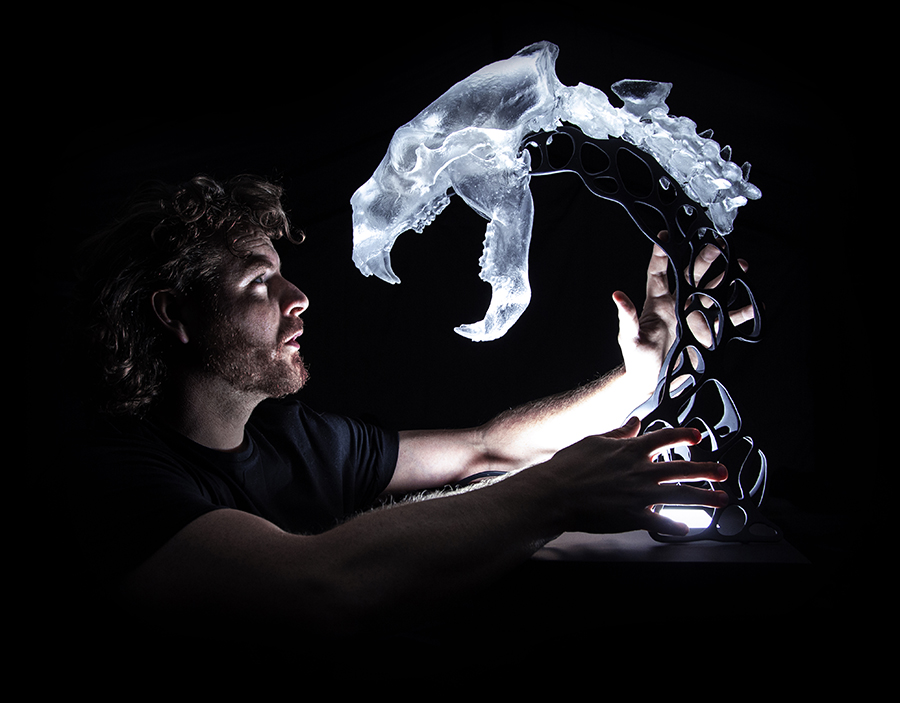 ---
Welcome to the Penn ARCHIVE an introduction to artist Matthew Penn and his genesis collection of artworks. We're going to explore his decentralized approach to the art world.
Penn's art is a fusion of ancient and contemporary techniques exploiting his revivalism movement that shatters the boundaries of art fabrication and traditional art relationships. The cradle of his entire collection is the manipulation of light which he uses to enhance all of his artworks and take people into his immersive world.
The 34-year-old self-taught artist who has always represented himself has kept his work under the radar whilst he prepared the launch of his collections that have been 10 years in the making. The arc-k-hive consists of hyper-realistic portraits that are self-contained in bespoke frames fused with the artists' and subjects' purified DNA. The paintings which are created entirely by hand are grown with over 30 layers of oil paint and once completed are injected with life through the sculpting of light that brings the subject out of the dark infinitive backdrops and rooms in which they are displayed. From a distance, they look as if the subject is present and alive but as you get closer you realize the complexity of abstract marks and layers that create this illusion. You can almost see the blood coursing through the veins of the subject during these intimate viewings and hear a gentle breath as they stare back at you with a pensive glint in their eyes. Although most viewers have no affiliation with the subject there becomes an emotional bond between the artwork and the onlooker.
A selection of Penn's paintings are stripped away from the walls and metamorphosize to the centre of rooms where the viewers can walk around the painting as if they were now sculptures. The 360-degree viewing ability allows the onlooker to see opposing views of what would have been traditionally a singularity on the wall.
Penn also has his own independent gallery called ARCHIVE. In this space, the paintings that encompass the walls stare intensely at the bronze and crystal glass sculptures that Penn has hand forged. His "Inner Light" series of sculptures tear away the outer anatomy of the figurative bronze sculptures exposing the cast crystal glass anatomy of these immortalized figures. "Auxilium '' is Penn's first ever sculpture which explored his desire to dissect the anatomy of a sculpture, representing this narrative not just as a surface aesthetic but as a layered recreation within the once empty void of a bronze shell, the entrapped aesthetic the artist desired to release. It was the '' Inner Light '' series that began the artist's journey of using glass as a focal aesthetic for his sculptural work. His childhood curiosity about what lay beneath the surface of a sculpture is now physically achieved in his own unique interpretation.
The sculpture collection also extends to his "Rebirth" series where he has taken disused and deteriorated ornate picture frames that once contained painted masterpieces and recreated their sole by casting them entirely out of crystal glass. These glass frames now entrap the human form within their boundaries and new contemporary aura. The crystal frames are also individually mounted to walls and plinths containing nothing but openness or the world's blackest paint, preventing even light from showing what would have once been the complimentary boundary of a work of art; the reincarnated frame now becoming the sole focal point, taking centre stage going from apprentice to master. These works hold particular importance, as Penn's grandfather was a fine art picture and frame restorer and his desire since a child was to use these frames in an untraditional way, a vision to bring an old aesthetic into a contemporary realm was achieved with "Sophia" from the Rebirth series.
Penn has personally sold his artworks to global collectors achieving 6 figure sums for his works. At the age of 26 Penn sold one of his "Metamorphosis" painting sculptures for £180,000 and recently exceeded this with a sale worth £300,000 for a "Fragile Fight" sculpture. All these sales have allowed Penn to evolve and innovate his artworks and invest in starting his conservation collection called "Fragile Fight'', which was pre-launched in 2021 at an exhibition held at Number 10 Downing Street to celebrate the start of COP26. At this event, the cast crystal glass skull of a female Polar bear stood face to face with the Prime Minister whilst he absorbed the power of its message.
All of these achievements/artworks and passion for conservation led to the genesis of Penn's most important and poignant aforementioned series "Fragile Fight" - The art of conservation. For the first time in history, Penn has recreated and re-articulated the entire skeletons of endangered and extinct animal species out of cast crystal glass, a project he believes will inspire/educate and highlight the fragility of nature and the challenges we all face to protect and heal it from our anthropic damage. Penn has launched the Fragile Fight with his first fully articulated cast crystal glass skeleton of a female Polar Bear now truly enhanced by the remaining skeletal structure added to the skull exhibited at 10 Downing Street. This monolithic sculpture and poster child species called "FRAGILE FIGHT 001 - Ursus maritimus", will spearhead his attempt to help the species we equally share this planet with and at the same time allow people to enjoy and engage in this project. The Polar Bear will be followed by the resurrected Dodo skeleton Penn has already cast alongside the Polar Bear's creation.
A very exciting collaboration between Fragile Fight and ZSL London Zoo will be announced in 2022 and it will be an Arc-k-hive that will smash down the boundaries of traditional art experiences. Penn and the Fragile Fight encourages everyone to join its community and become a part of its history and journey and soon everyone will be able to enter the pantheon of exhibited endangered species crystal skeletons.
The time for blame is over and the era of action must start!!!
Moving forward to the future, Penn will enter the metaverse with his entire collection, taking with him his love for tradition and centuries-old artistic handcrafted techniques and fusing them even further with the digital and scientific innovations of our age. This evolved revivalism will be a truly immersive experience.
Penn's foundations are now set and ready for the next chapter and the sketchbook of future concepts is ready to sculpt, paint and fabricate.
---
---
AUXILIUM / Cast bronze and crystal glass / Private Collection